i ♥ teaching music:
about me
Get to know the brains behind this operation!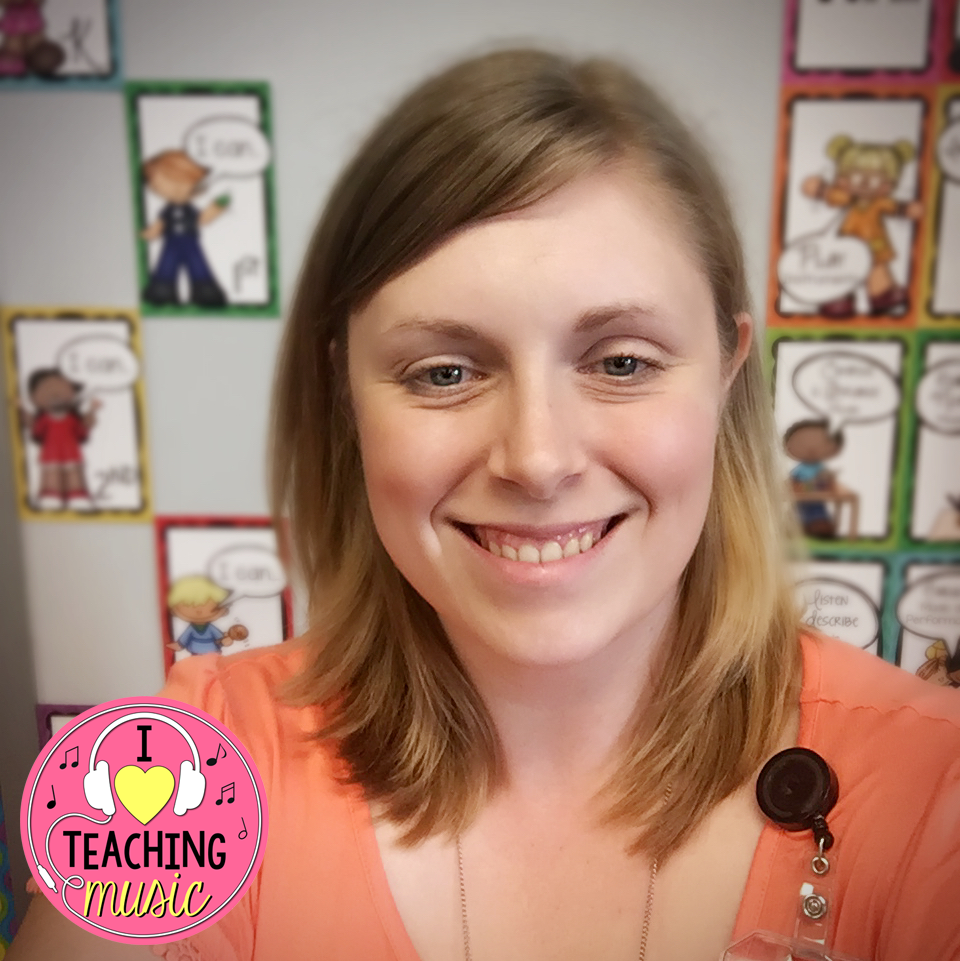 Who I am…
Why, hello there! Welcome to i ♥ teaching music, a creative project by Angie Kelton. Angie is a K-5 elementary music teacher with 11 years experience in the classroom. She is passionate about sharing creative ideas that engage students in accessible ways.
"I spent my first 10 years teaching general music in a large suburban district where I split my time each week between 3-4 schools (depending on the year). Teaching a la cart forced me to get creative in my teaching & time management. All lesson plans shared here on the blog & all products offered in the i ♥ teaching music store have been used in a variety of settings, including music classrooms, gen ed classrooms, libraries, cafeterias, and stage space. If they work for me, they should work for anybody!"
Angie graduated Summa Cum Laude and an Honors Program Scholar from Illinois State University in 2005. She was awarded a Bachelors in Music Education (BME), and holds Level I Orff Certification. Angie regularly attends local Orff chapter workshops and she is currently working on a Masters in Educational Technology (MET).
"Technology is a true passion of mine. I love integrating it into my lessons from both an organizational standpoint and as a tool for engagement. The Masters in Educational Technology program I'm in has introduced me to several new Web 2.0 technologies and has strengthened my understanding of video-making, graphic design, and web design for educational purposes."
What I offer…
i ♥ teaching music features K-5 music education resources for the passionate & creative teacher. Resources have all been kid-tested and teacher-approved. All of my downloadable resources are available at Teachers Pay Teachers.
i ♥ teaching music offers:
engaging lesson plans
presentation files (PowerPoint & SMART Notebook)
creative concept videos
easy to use sub plans
educational games
worksheets
assessments
organizational tools
room decor
Professional Development & Design Services
Angie has presented workshops for local school districts, the St. Louis Chapter of the American Orff-Schulwerk Association, and both Missouri & Illinois Music Educators Associations. Looking for high-quality professional development that's tailored specifically to the needs of music educators? Check out the Presentations page for a list of topics Angie would love to explore with your group.
i ♥ teaching music also offers design, virtual assistant, and editing services for bloggers, teacher-authors, and teacherpreneurs. For more information, check out the Design Services page.